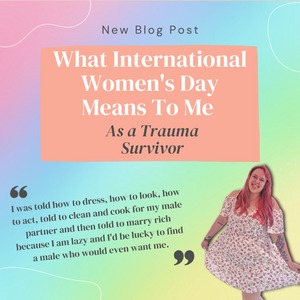 What International Women's Day Means To Me As a Trauma Survivor
This blog post will contain triggering material about domestic and family violence, trauma, sexual assault, gender inequality and severe mental health issues. If this blog post could trigger you, we recommend that you don't read it. Your safety is more important to us. If you do read it and it becomes triggering to you, please reach out for support from a trusted loved one, a mental health professional or check out our 'I Need Help' page for resources. Please read with care.
"Imagine a gender equal world. A world free of bias, stereotypes and discrimination. A world that's diverse, equitable, and inclusive. A world where difference is valued and celebrated. Together we can forge women's equality. Collectively we can all #BreakTheBias." Direct Quote from International Women's Day*
I remember when I first heard about International Women's Day. I was confused what the day was about and didn't pay much attention to it and over the years I have struggled to understand what the day represents for me as a woman.
I grew up in a very male dominated world and I didn't have many women to look up to. I watched the inequality and abuse occur in my community and in my own home, women being less to support the men.  
I was told that it was my job as a woman to ensure that the males in my life were looked after and that I wasn't capable of anything without a male. I was told how to dress, how to look, how to act, told to clean and cook for my male partner and then told to marry rich because I am lazy and I'd be lucky to find a male who would even want me. I was told my body was allowed to be touched and explored by other males because that's what a woman's body is for, for men's satisfaction. I was told I must become a mum and provide to society and my male partner as that is what a woman must do. 
I watched princess movies and thought that someday I will find my knight in shining amour and he will come to save me. I started dating boys extremely young and was engaged at 18 because I was told I needed to be saved and I wouldn't handle being on my own. I entered my first domestic violent relationship at 17 and would experience 2 more domestic violence's relationships and homes by my 22nd birthday. 
I didn't know any different and I wish I could tell my younger self that she is more than capable of being alone and capable of having a beautiful life without a partner. I also wish I could tell her that being gay or bisexual or a lesbian or ANYTHING is more than okay as well and you are not less of a person for how you identify and you don't need someone!
International Women's Day for me is about equality for all people, no matter their gender identity. It is a day to celebrate the amazing women, including our trans and non-binary community, in our lives. It is a day for empowerment. A day for awareness of the inequality that is still happening. To show a light the inequality through history. A day to inspire domestic and family violence, trauma and sexual assault victim survivors to keep going, that they matter, that the world needs them, and to lift them up and give them their voices back!
Every single year since I first heard about International Women's Day, I have felt more empowered, I have felt apart of a community, I have started to feel more equal, learnt to love myself more and I have found my voice again. 
I want to thank all the amazing and inspiring women in my life but also on social media. From the small businesses I follow to the influences, the friends I have made online and now in person, and especially all my mental health workers. The community I have surrounded myself with is my WHY! 
We live in a very gendered world and it saddens me how many people are affected by gendered violence. International Women's Day is NOT a day to talk down on the men in our lives, it is not a day to be angry at them. It is a day to bring equality back into our world and see us all as equal humans.
I want to pay my respect to the males who are also victims in their own right and know that we see you, we hear you and you deserve the same human rights as all of us. We need to end violence for ALL! 
What can you do this International Woman's Day?
Here are some recommendations on what I have done over the years and what I will be doing this year.
Research the history of women in the world and in Australia. Understand why there is a need for International Women's Day. Refer to the links below in 'References'
Listen to the stories of women, trans and non-binary people in your community and support their voice!
Listen to podcast that support equal rights and share stories from women
Speak up about what International Women's Day means to you
Speak up when someone uses bias, stereotypes, discrimination and judgement
Listen and give space for your loved to share their story
Share your own story (you can share it in the comments, send us an email or dm!)
Organise an event to support and empower your community
Buy the women in your life a present to show them love and support (recommendations below)
Cheer on women run businesses 
Celebrate Transgender Day of Visibility on 31st March 2022**
Celebrate International Non-Binary People's Day on 14th July 2022***
Celebrate International Men's Day on 19th November 2022****
Women Run Businesses Shout Out
We would like to shout out all the amazing women run businesses that we work with her at For Your Mind Boxes!
Are You Ok Shop
Aromas by Rhi
Bella Oils
Bickie Mouse 
Brooklyn Bee Designs
Cocoskin
Destiny Drive
Dreamy Hollow
Enaid Essence 
Flaura Gardening
Handmade by Anka
Hidden Hope
Josephine's Little Shop
Mum Bun Scrunchies 
Positive Mind Open Heart
Slime by Honeybee
Solity
Something Cool Art
Sunbee Store
The Path To Beauty
Tilly and Type
Product Recommendations 
This weeks recommendations are products that may assist those in your life who have experienced trauma, family and domestic violence and/or sexual assault. These products will never take the pain away from these victim survivors and we strongly encourage professional support. These products are simply to help assist your loved on our their journey to healing and a kind gesture you can give to show love and support. 
Disclaimer 
For Your Mind Boxes is not a replacement for health care professionals including Doctors, GP, Psychologists, counsellors. The strategies and recommended products outlined in this blog post are only to be used as a guide and not to be relied on solely. It is strongly recommended to use these strategies in line with your health care professional. If this blog post has been triggering to you please seek support from a trust safe person, mental health professional or click I Need Help to view our list of helplines and support services.
References
We obtained the information in this blog post from the following websites;
*https://www.internationalwomensday.com/
**https://nationaltoday.com/transgender-day-visibility/
***https://www.lgbtiqhealth.org.au/international_non_binary_people_s_day
****https://www.internationalmensday.info/
---
1 comment