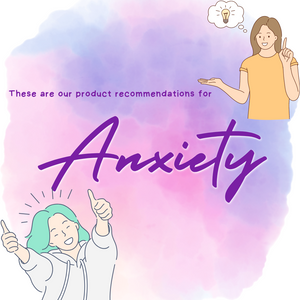 Recommended Products for Anxiety
For Your Mind Boxes has a wide variety of products and resources to support Mental Health and wellbeing, but have you found yourself wondering what to get for yourself or your loved one?
Welcome to our first recommendations blog post! In this blog series, we will cover the products and resources we recommend for different diagnoses, life events, diverse groups and more!
If this blog is triggering in anyway, we ask that you click away and contact a loved one or use our 'I NEED HELP' page on our website or click here.
Please note that this is only a guide and we are recommending based on our personal lived experience, our own Mental Health care professionals advice and customer feedback. This is in no way a therapeutic recommendation unless give by your own Mental Health care professional. Our advice should not be relied on solely. Please refer to the disclaimer at the bottom of this blog. 
Anxiety
Everyone has experienced anxious feelings such as worry, stress, fear, nervousness, uneasy and fidgety. These are all normal emotions that are trying to communicate something. Sometimes these feelings stick around longer than we like and we may be experiencing anxiety.
It is important that if any of these feelings affect your day to day life (makes simple daily tasks more difficult) that you speak to your GP, loved ones and a mental health professional. You can also view our 'I Need Help' tab on our website or send us a message and we can help provide resources local to your area.
The following list features our top products and resources that assist in lowering feelings of anxiety, worry, stress, fear, nervousness, uneasiness and assist with fidgeting. Each product and resource has been tested by us, recommended by our customers and our personal mental health care professionals. 
Recommended products for anxiety include;
We encourage you to let us know in the comments your favourite from this list! What would you add to it? What should we add to our store?
As always, if you have any questions, don't be afraid to reach out! We love to help where we can!
We will update this list as new products arrive in our store or if products are discontinued. 
Thanks!! 
*Disclaimer 
For Your Mind Boxes is not a replacement for health care professionals including Doctors, GP, Psychologists, counsellors. The strategies outlined in this blog post are only to be used as a guide and not to be relied on solely. It is strongly recommended to use these strategies in line with your health care professional. 
---